Is Kybella Right For You?
As we age, many men and women can experience an accumulation of fat on the chin and neck area, contributing to the appearance of a double chin. Until recently, the only way to correct this cosmetic issue was to have invasive surgery such as a neck lift or neck liposuction. A Kybella® treatment can result in slimming the fat areas under your chin, resulting in a taut, firm neck.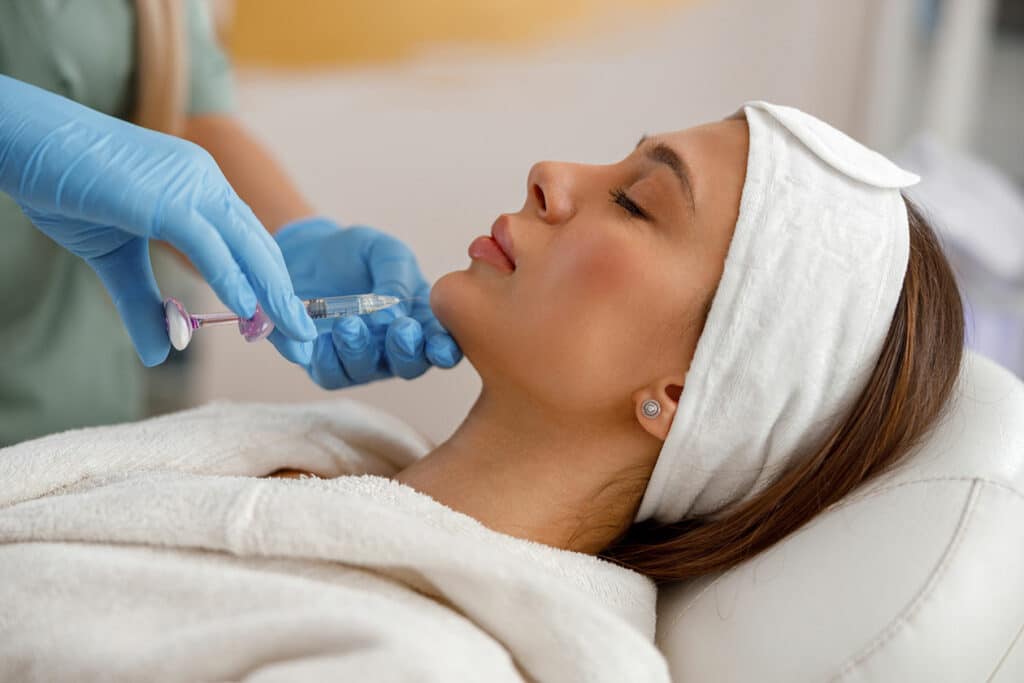 How Kybella Works
Kybella® permanently dissolves fat. It is a non-surgical solution to a double chin. There is no surgery involved, no incisions and no stitches. When a patient comes into our Friendswood med spa for a Kybella® treatment, they will receive multiple expertly placed injections.

We usually recommend about three to four total treatment sessions, each spaced one month apart for the best results. In general, patients notice improved tightness and contouring as the treatment continues. Each in-office treatment is scheduled for 30 minutes and can easily fit in as part of your daily routine.
Kybella FAQs
How does Kybella work?
The key ingredient in KYBELLA® is deoxycholic acid, an all-natural compound found in the human body that works to destroy fat cells. Once deoxycholic acid is injected beneath the chin, it instantly starts to break down fat stores, releasing the unwanted cells as waste.
How many Kybella treatments will I need?
We will create a tailored treatment plan based on your chin profile. At each treatment, you will be given multiple small injections under your chin. You may receive up to 6 treatment sessions, spaced at least 1 month apart. Many patients experience visible results in 2 to 4 weeks after KYBELLA® treatment session.
What is the recovery time like with Kybella?
Some patients may experience mild tingling, redness, numbness, or swelling after their KYBELLA® injection. These side effects are perfectly normal and they will dissipate shortly, usually within the first week. Ice packs and/or ibuprofen usually provide comfort and peace of mind. Minimizing post-procedural exercise is a good idea, as this can help keep swelling down.
What kind of results can I expect from Kybella?
You will be able to fully visualize your results within the first two weeks, but this varies from client to client. When injected into the fat under the chin, KYBELLA® causes the destruction of fat cells. Once destroyed, those cells cannot store or accumulate fat. After reaching your desired aesthetic, further treatment is not expected.
Can Kybella be used elsewhere to reduce fat?
KYBELLA® is exclusively made to remove fat from the chin area. You would need much more product to dissolve fat in the thighs, abdomen, and hips. However, we do offer other procedures such as Coolsculpting for other body areas.